The Tokyo 2020 Olympics Torch Relay will pass through Oizumi Town. So traffic restrictions will be forced on the relay course and surrounding area.  Please understand  and cooperate.   
You can also watch the torch relay on the live broadcast of the following NHK special site. 
Date
March 30th (Tue.)
Time
10:30 A.M. (Estimation)
Relay Course
The relay will start from Oizumi Central park and finish in front of  the north central gate of Panasonic.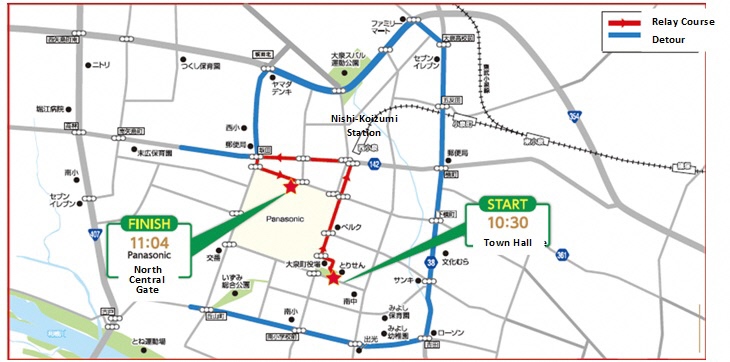 Traffic Restriction Hours
10:08 A.M. ~ 11:09 A.M. (Estimation)
Notice
Since traffic and crossing the relay course will be restricted, significant traffic congestion will be expected. 
Traffic restriction hours are an estimation and may change depending on the progress of the torch relay. 
Guidance to the detour will start 40 minutes before the start.
The time and the detail area of traffic restriction will be announced on the web-site of the town.  
There is a possibility that the event is cancelled according to the situation of the spread of COVID-19.
Contact Information
Lifelong Learning Division (Shogai-Gakushu-ka)
Phone: 0276-63-3111
Counter: Secretariat in the Public Hall